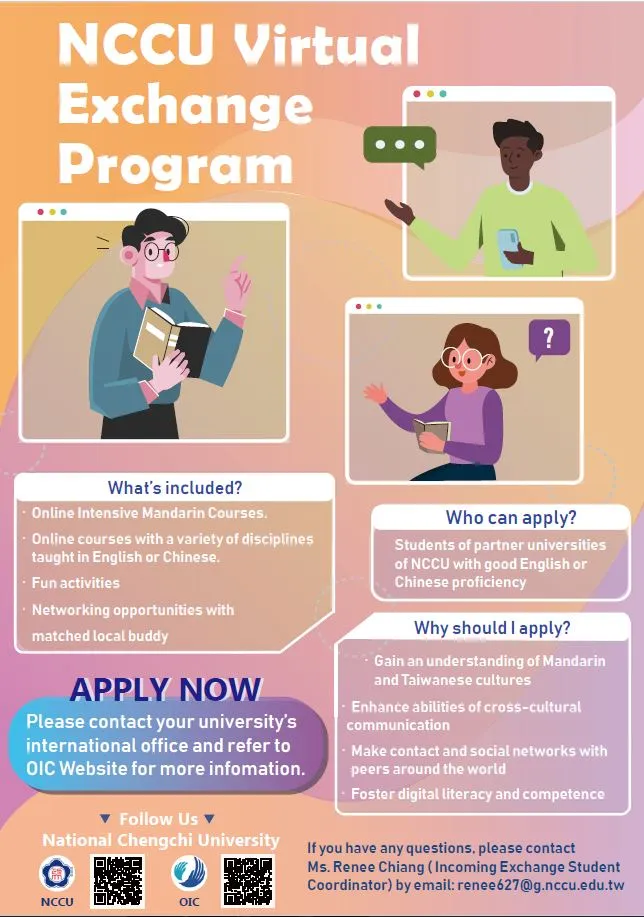 Are you eager to experience Taiwan and learn Mandarin despite the Covid-19 lockdown and border control? It is time to apply to the NCCU Virtual Exchange Program!
In response to the COVID-19 pandemic, NCCU just piloted its first ever "Virtual Exchange Program" in Fall 2020 to welcome exchange students to study online with local NCCU students.
The Virtual Exchange Program includes free Mandarin courses, academic courses, and cultural activities facilitated by NCCU students through a Buddy Program.
In Spring 2021, NCCU will offer 20 virtual exchange courses in the fields of commerce, communication, and Mandarin for the students of NCCU's partner universities. The courses will be taught in English (except for Mandarin) and there will be a combination of synchronous and asynchronous courses.
Our virtual exchange program also incorporates features that would stimulate in-person interactions. Each exchange student is to be paired with two to three local learning buddies. Virtual exchange students and local buddies are grouped through an invitee-only Facebook group for opportunities to share resources, such as campus vlogs, foreign Youtubers in Taiwan, and materials for language learning. Monthly virtual chatrooms will also gather NCCU buddies and exchange students together for fun live cultural interchanges and discussions.
The general eligibility and application process are the same as the in-person exchange program. The application deadline for Fall Admission, 2021 is on April 20th, and on October 20th for Spring Admission, 2022. Please contact your current university to be nominated.
For any other queries, please contact the Inbound Exchange Student Coordinator, Ms. Renee Chiang (renee627@nccu.edu.tw), of the Office of International Cooperation, NCCU.